Sawdust Ltd. is a Leader in Innovative Design and Fabrication.
Our approach ensures that your project vision becomes reality. Our goal is to meet your requirements and exceed your expectations. We strive for you to say "WOW!" years after the job is completed. Because of this, our clients become our friends.
When you are ready to begin, just contact us and set up a consultation. We know how busy life can get, so if that means coming to you in the evening or on a Saturday, that's fine by us. We are here for you.
During the initial meeting, we will spend time with you to fully understand your project. We will ask questions and offer input for your consideration. We will take pictures of the existing space and detailed measurements. Finally, we will answer any of your questions and let you know what decisions you will have to make along the way.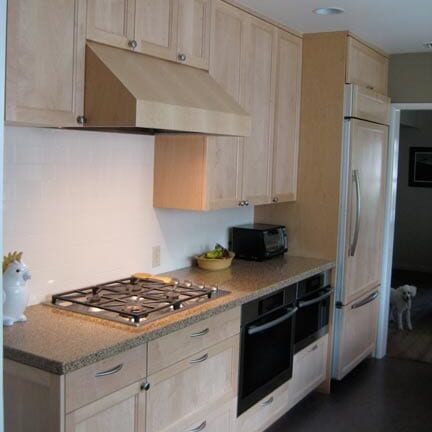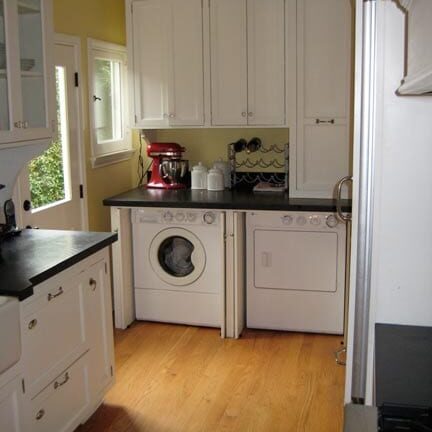 Your approval of the design will start the fabrication process for your cabinets and/or architectural millwork. This work is performed at our shop.
Installation is when we install your cabinets and/or architectural millwork. Cabinets are leveled and aligned. We scribe our cabinets to the wall rather than covering up any gaps with moulding.
When we are finished we know that you will be pleased and glad that you chose Sawdust Ltd. for your project.
The kitchen has long been considered the heart of the home. Then appliances are the engine that drives what the kitchen does: cooking, cleaning and preserving. This section will provide you with some basic considerations to help choose the best appliances for your kitchen. I have included some reading references in the References and Links section to provide much more detail than is practical here. Questions: The first step in understanding what appliances you need is by understanding how you cook. Some questions to be answered are:
How many people cook at the same time?
How many people eat at home on a daily basis?
How often and for how many people do you entertain?
What is your favorite menu for entertaining at dinner?
How often do you grocery shop?
What appliances do you like to use the most, and the least?
What appliance that you do not have would you really like to have? Answers to these questions will allow you to prioritize your appliance selection and budget. Put your money on your priorities. If you love steamed vegetables you may want to invest in a steam oven. If you shop for groceries every day or so you probably do not need a lot of freezer space in your refrigerator. I think you get the point that investment in appliances should be in line with how they are used.
Cabinet construction is a critical component to the longevity and functionality of the cabinet. This section deals with cabinet terminology and how Sawdust Ltd. builds your cabinets. Cabinet Types:
Face Frame - These are traditional cabinets that have a wooden frame attached to the face of the cabinet box. The paint grade cabinets shown in the kitchen section of our gallery are face frame cabinets.
Frameless - These cabinets do not cover the face of the cabinet with a separate frame. Frameless cabinets have the best space utilization. They are also known as Euro or 32mm. The stain grade cabinets shown in the kitchen section of our gallery are frameless cabinets.
Cabinet Categories: Sawdust Ltd. defines three main categories of cabinets within the two types of cabinets. They are:
Base - These cabinets sit on the floor and support a separate work surface top, such as a kitchen counter or desktop.
Tall - These cabinets also sit on the floor and do not have a separate work surface top, such as a pantry cabinet.
Wall - These cabinets are attached to a wall and are usually above a base cabinet. They can also be referred to as upper cabinets.
Cabinet Construction Standards: Sawdust Ltd. uses American made sheet stock that conforms to formaldehyde content requirements for our cabinets. We also offer "Green" and formaldehyde free materials.
The choices for countertops today is extensive and requires thought to make appropriate selection(s). It is not uncommon to have several different types of countertops in a single kitchen. For example, one may have marble in a baking area, engineered stone on the other counters and butcher-block on an island. Each type of material has its pros and cons. In order to help one make an informed choice we have provided some basic information about each type. They are listed in alphabetical order. The cost index for type runs from 1 to 4 with one being relatively the least expensive and 4 the most.
Hardware is divided into three categories, functional, convenience and decorative. Functional: Functional hardware includes the drawer slides and door hinges that allow their drawer boxes and doors to operate. Door hinges are functional but can also be decorative when they are exposed. Convenience: Convenience hardware is all the things that go inside cabinets and drawers to add ease of use. Types of convenience hardware include:
Lazy Susan - available in round, kidney, and half moon shapes.
Trash and recycle systems.
Pantry systems - available in both revolving and roll-out versions.
Pull down shelves - allow you to bring upper shelves down to a reachable level.
Pull out cabinet storage.
Door storage systems.
Pull out hampers and baskets.
Wine storage.
Drawer inserts - plates, cutlery, spice, bread, knives, cosmetics, jewelry, and pencils.
Cutting boards.
Mixer lifts.
Decorative: Decorative hardware is the door and drawer pulls used on cabinets. There are countless styles, finishes and quality of door and drawer knobs and pulls. Typically, the choice of style and finish is a personal choice. If exposed hinges are to be used they are available in the same style and finishes as the knob or pull. Some practical factors to consider in selecting knobs and pulls are:
How well do your hands fit in the pulls?
How comfortable do your fingers fit behind a knob?
How easy is it to grab a knob when you fingers are wet? 
CV Tile & Stone 520 East Evergreen Monrovia CA 91016 626-303-0336 www.cvtile.com
Decore-Ative Specialties 2772 South Peck Road Monrovia CA 91016 800-729-7277 www.decore.com
George's Pipe & Plumbing Supply Company 99 Palmento Drive Pasadena CA 91105 626-792-5547 www.georgesshowroom.com
MD Appliances 690 South Fair Oaks Pasadena CA 91105 626-792-0702 www.mdappliances.com
Snyder Diamond 432 South Arroyo Pkw Pasadena CA 91105-2531 626-795-8080 www.snyderdiamond.com
Warehouse Discount Center 314 North Central Ave. Glendale, CA 91203 818-844-0900 www.wdcappliances.com